The Redfield 114651 Rampage 20-60x80mm Angled Spotting Scope boasts a precisely cut objective lens 80mm in diameter. The magnification range is 20-60x with a fantastic image resolution across all magnifications.
The close focus range is set at 4.3 meters, and the eye relief ranges from 16.6mm at 60x magnification, to 19.3mm at 20x magnification. The field of view is 32 meters 1000 yards (914.4 meters) with 20x magnification, and 15.8 meters at 100 yards when set to 60x magnification.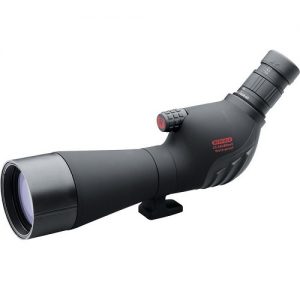 Images are nice and clear, even in not so great conditions. The tight outside seals ensure great waterproof features, and fog- proofing is achieved with nitrogen inside the body.
Thewell-knotted focus knob is positioned right where your hand would naturally rest on the scope, so no hassle will take place when trying to focus.
Redfield 114651 Rampage 20-60x80mm Angled Spotting Scope Features
Magnification range 20-60x
Objective lens diameter 80mm
Field of view 32-15.8m at 1000yd
Angle of view 2.0 – 1.0°
Minimum focus distance 4.8m
Eye relief 19.3- 16.6 mm
Length – 38cm
Weight – 1.2kg
Included caps, tripod, soft view through case, and a carry bag