Spotting across the great outdoors is a wonderful hobby, and more and more people are picking up on it recently. It's no wonder that you've caught on the trend, and if you're looking for the best spotting scopes under 200 dollars, you've come to the right place.
We're here with top picks and some advice which will hopefully help you understand the criteria we used as we scrounged the market for the best, finest scopes out there.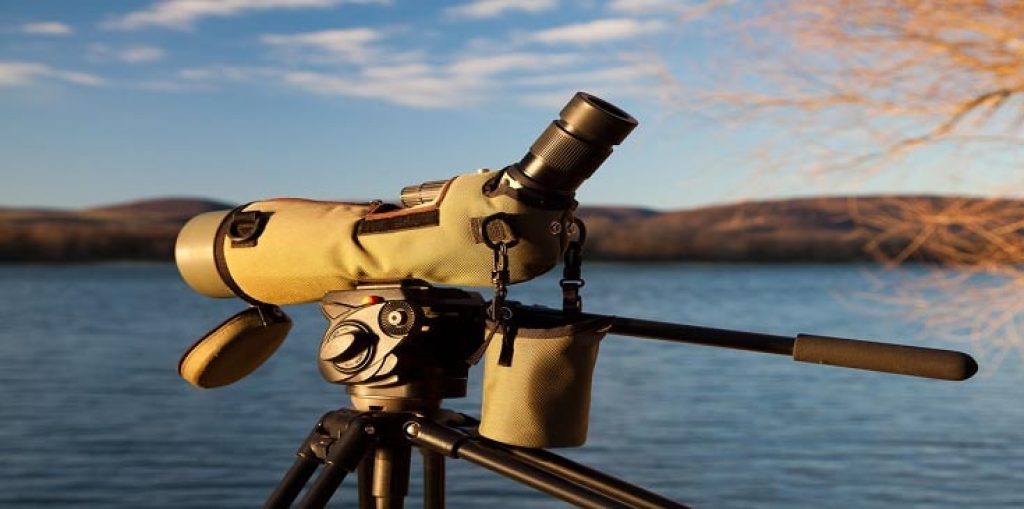 Best Spotting Scopes Under $200 Comparison Table
| Image | Name | Magnification | Weight | Price |
| --- | --- | --- | --- | --- |
| | Celestron Ultima 65 18 to 55×65 | 18x - 55x | 2.31 pounds | |
| | Gosky 20-60×80 spotting scope | 20x - 60x | 4.4 pounds | |
| | Landove 20-60×80 zoom | 20x - 60x | 4.36 pounds | |
| | Landove 20-60×80 Prism | 20x - 60x | 4.18 pounds | |
How To Find The Best Spotting Scopes Under 200 Dollars
There are a couple of things you should keep an eye open for, including the magnification span, lens size, scope type, and accessories.
The magnification span is usually indicated by the 'first two numbers' (for example, Aurosports 25-75×70 – the magnification spans from 25x to 75x) you'll often see in the scope's name. Bigger magnification spans mean that you'll be able to zoom in further, but you'll also need a good lens for that.
Huge magnification without a proper lens will eventually give you blurred, unclear images. Ideally, scopes with big magnification spans go nicely with big lenses.
As for the scope type, the most common ones are fixed and angled. Without going too far into details, fixed scopes are preferred by hunters who need to scope in on the target in rapid fashion, in virtually every other scenario an angled scope is welcome. Angled scopes are easier to adjust, provide a more versatile approach to scoping, and are generally better if you intend to share your scope with a friend or two at times.
Accessories aren't really necessary, as a good scope can still be good even if it doesn't come with any, but look out for complementary tripods and carry cases. Every model we've picked features one or both.
Best Spotting Scope Under 200 Reviews
1. Celestron Ultima 65 18 to 55×65 Straight Spotting Scope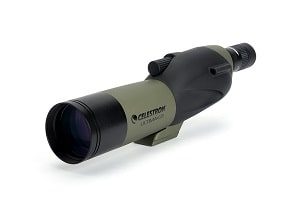 Celestron scopes are favored by many birdwatchers and casual 'spotters' mainly because they're plain and offer premium quality images. Some of the higher end models such as Ultima 65 in particular – this model works like a charm, especially if you intend to go hunting with it since it offers rapid scoping benefits.
First of all, this scope packs a 65mm lens – fairly big and more than enough to capture superb quality images without blurring them at higher magnification levels. Speaking of which, it features a variable 18x to 55x magnification, which is certainly a little lower in comparison to models we've reviewed so far, but actually great for casual scoping, hunting, and exploring wildlife and such.
This is also the first 'straight' scope in our review, bringing benefits of stability and easy handling onboard. As complementary features, you'll also get a complimentary carrying case to further boost its compactness and portability. To top it all, this scope is completely waterproof and packs a rigid construction, making it suitable for all kinds of purposes, especially in harsh environments.
Highlighted Features Of Celestron Ultima
65-millimeter lens
Multi-coated optics
Straight scope design
Variable 18x to 55x magnification
Comes with a complimentary carry case
Waterproof and durable construction
2. Gosky 20-60×80 spotting scope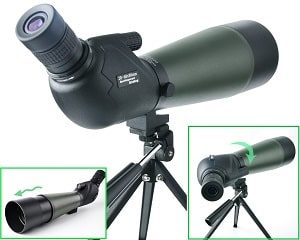 Our last pick is Gosky's 20-60x spotting scope. It packs multi coated 80mm objective lens and a high-quality prism, variable 20x – 60x magnification, durable rubber armor, and a fully waterproof design. Though it does appear as a relatively basic scope in comparison to our previous picks, it's very versatile and offers a slightly different set of features.
First of all, the multi-coated 80mm objective lens is absolutely phenomenal. Backed by a quality prism, it provides breathtaking images attributed with pristine clarity and accuracy. The variable zoom spans from 20 to 60x, which is a pretty broad range. It makes it suitable for pretty much every use you've intended, from casual spotting, over sightseeing, to hunting.
The durable framework with rubber armor means that this one's a keeper. It was specifically built to withstand harsh environments and conditions, and with proper care, it will last you for decades to come. Because it's completely sealed on the inside, it also boasts waterproof qualities. Lastly, this scope comes outfitted with a special digiscoping phone adapter as a complementary feature.
Gosky 20-60×80 spotting scope Highlighted features
Multi coated 80mm objective lens
Variable 20x to 60x zoom
Durable framework with rubber armor
Waterproof design
Cellphone digiscoping adapter
3. Landove 20-60×80 zoom spotting scope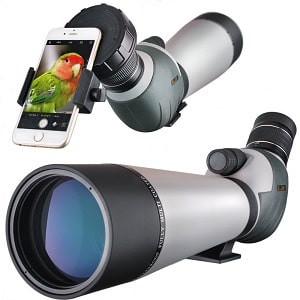 The first spotting scope in our review is Landove's 20-60×80 spotting scope. It packs a very formidable set of features, including 80mm (in diameter) lens, a 2-inch angled eyepiece, BAK4 Prism, and many more. It's equally suitable for bird watching, stargazing, and casual scenery observation. This is one of the best spotting scope under $200.
First of all, the variable magnification spans from 20x to 60x, and to top it all, the huge lens makes the picture crystal clear. The angled design of the lens allows you to scope for long periods of time without any substantial eye fatigue.
Furthermore, the Bak4 prism features multi-coated optics and enhances light transmissions, providing pristine clarity, even in particularly dim-light conditions. The design of this scope also rocks nitrogen-filled properties, a high waterproof rating making it suitable for 'all terrain, all season' use.
Moreover, the scope along with all of its features is remarkably durable. The outer layer is made of premium quality rubber, boasts non slip qualities, is shockproof, and very easy to use and grip. It's clearly built to withstand and endure even the harshest environments.
Apart from that, this spotting scope comes with several complementary features, including a tripod and an easy carry bag. The gratis tripod is made of metal materials (and features a built-in mount), and you'll also receive a cleaning cloth and a couple of lens-protection covers.
There seem to be no downfalls or drawbacks worth mentioning, although several people have complained about the scope getting a bit blurry at maximum zoom settings. Of course, there's a huge number of factors that could affect your scoping experience, and it's most likely that people who've complained did not take air humidity in the account.
Overall, this is not an expensive scope, but it's certainly not cheap either. It does a great bang for the buck, and we highly recommend it to beginners and novices who've just ventured to explore the world of spotting scopes.
Highlighted Features Of Landove 20-60×80
Variable 20x to 60x zoom
Dynamic lens system
BAK4 Prism
Nitrogen-filled & waterproof design
Phone adapter
Metal tripod & carry bag complementary features
4. Landove 20-60×80 Prism Spotting scope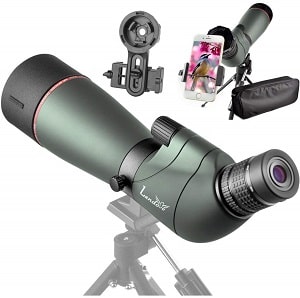 Next up is another spotting scope from Landove. And though it does bear much semblance to our previous pick, it packs a different set of features and brings different conveniences onboard.
Comparing the two, both of the scopes have a variable zoom spanning from 20x to 60x, fully-coated optics. And 80mm objective lens. The premium-quality eyepiece and prism utilize the same technology, both delivering superbly clear images even at higher magnification levels.
The ends come outfitted with separate dials, so you can easily adjust zoom levels, as well as the amount of incoming light. Elevation and focus dials are both onboard, allowing you to further customize your scope.
As for the body itself, this scope features a full-metal body which is covered by protective non-slip rubber layers. The sealed interior prevents water leaks, but it's also shockproof and fog proof, making it equally durable as our previous pick. Accidental falls or bumps shouldn't even graze it, let alone damage it, but it should be noted that the lens is quite frail, so invest extra care while around it.
Another similarity with our previous pick is the smartphone adapter. The eyecup supports it, which means that you can align the phone came with scope's lens. This is a major feature for beginners, hobbyists, and enthusiasts, although it has almost no value for hunters.
Lastly, the package includes a gratis tripod and a complimentary carrying case. Though not exactly exemplary in any particular way, they do the job quite nicely and add some additional value for your buck.
We did mention that the lens is rather flimsy, but it appears that the only other drawback of this spotting scope is the tripod. It does come for free, but it's kind of flimsy, so you shouldn't rely on it too much. Consider an upgrade when you manage to save up some more cash.
Overall, Landove's Prism scope holds a great value for the cash. It offers much and excels in nearly all fields of performance, and if you manage to look past the flimsiness of the lens and tripod, it could even pass on as a perfect medium-price spotting scope.
Landove 20-60×80 Prism Highlighted Features
Variable 20x to 60x zoom
Fully-coated optics
80mm objective lens
Waterproof and fogproof design
Cellphone adapter
Carry case, eyepiece & lens-protection covers complementary features
Final Verdict Of Best Spotting Scopes Under 200 Dollars
Picking a good scope shouldn't be too hard, but picking the best spotting scopes under 200 dollars can be challenging. This price point category is filled with hundreds of relatively similar models. So we've taken the liberty of picking only the finest for your convenience.
We hope that you like our selection of the spotting scopes in the budget price range. And we wish you all the luck in finding the one that suits your purposes.