If you think you're using the best spotting scope, you've probably paid a fortune for it. If not, you might be mistaken and maybe it's time for an upgrade. We've taken a gander at some of the best spotting scope under 200 models, and we came to the conclusion that you could get the same bang for the buck within the price range of under 100 dollars.
Now, most people think that they can't safely use spotting scope that costs so little, but we're here to prove that these low-end models are just as great as their more expensive counterparts. Without any further ado, let's get straight to our best spotting scope under 100.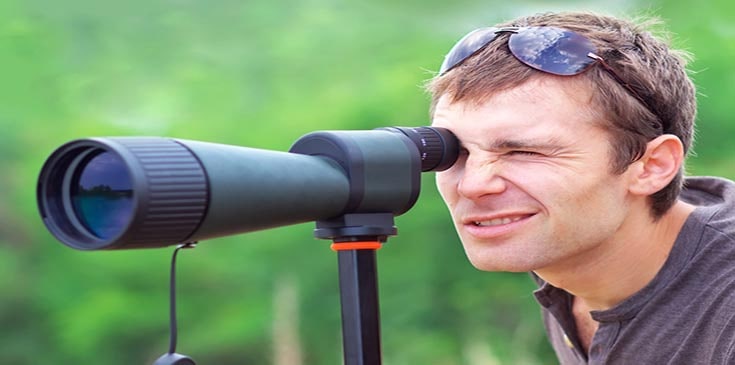 Best Spotting Scopes Under $100 Comparison
| Image | Name | Magnification | Weight | Price |
| --- | --- | --- | --- | --- |
| | Emarth 20-60x60AE | 20x - 60x | 3.79 pounds | |
| | Roxant Authentic Blackbird | 12x - 36x | Unspecified | |
| | BARSKA 20-60×60 Waterproof | 20x - 60x | 1.87 pounds | |
| | Celestron 52322 Landscout | 12x - 36x | 1.13 pounds | |
| | BARSKA Colorado Waterproof | 20x - 60x | Unspecified | |
Recommended Best Spotting Scope Under 100 Dollars
1. Emarth 20-60x60AE Waterproof Angled Spotting Scope With Tripod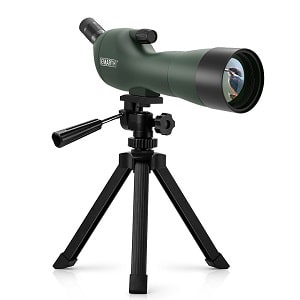 The first model in our cheap spotting scope review is actually the best spotting scope under 100 – the Emarth's 20-60×60 is absolutely amazing for the buck. It packs a superb adjustable magnification spanning from 20x to 60x, a 45-degree eyepiece, a fully multi-coated lens, and remarkably durable construction.
It's also rocks a waterproof and fogproof design, making it an excellent all-around scope for nearly all kinds of purposes and weather conditions. Some of the most notable features of this spotting scope are the BAK4 prism, a shockproof grip, and the rubber armor.
Why We Like This Product
Now, we should point out that this is our absolute favorite model within this cheap spotting scope review.
The reason we loved it so much is because it's so well-rounded. It's magnification range spans across both extremes (both low and high), the field of view is absolutely great, the lens is fully multi coated, the construction as robust as can be. There's simply nothing more you could ask from a scope.
2. Roxant Authentic Blackbird High Definition Spotting Scope with Zoom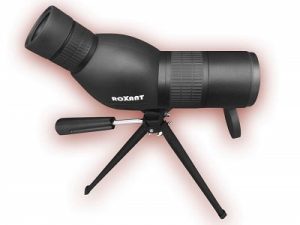 Next up is Roxant's 'Blackbird'. This is more of a bundle than a scope, as it comes outfitted with gratis accessories, including the foldable tripod, several lens caps, as well as a neat little carry case. The eyepiece is angled and can swivel up to 45 degrees.
On top of that, the Blackbird features a non-slip molded grip, an extendable eyepiece that can be used both with and without glasses, the extendable sunshade, and military grade optics. It's great for all purposes, and it's equally efficient for hunting as it is for bird watching.
Why We Like This Product
Most people would say that they love Roxant's Blackbird, but we think that such a word would be a huge understatement, simply due to the fact that it packs unprecedented, unparalleled optics. Namely, you will start to look at this scope as an extension of your sight – the optics are so great that you'll be amazed with the sharpness and details of the images Blackbird provides.
3. BARSKA 20-60×60 Waterproof Straight Spotting Scope with Tripod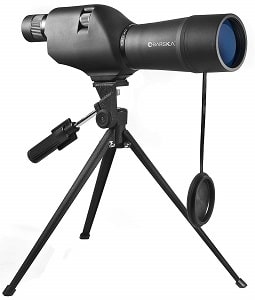 After the Blackbird comes Barska's 20-60×60 straight spotting scope. It's a bit less versatile than our previous pick, mainly due to the fact that it's a straight scope, but nevertheless, it packs a huge value for the money due to its premium performance.
This spotting scope packs fully coated optics, it's completely water and fogproof, and has a zoom magnification range from 20x to 60x. It also comes with complementary features such as the pan head tripod, and a soft carry case.
Why We Like This Product
Water and fogproof ratings are nowadays taken for granted, and what this scope provides is absolute reliability in that regard. Great optics, great complimentary features, and, best of all, it comes with a very stable and robust tripod.
4. Celestron 52322 Landscout 12-36×60 Spotting Scope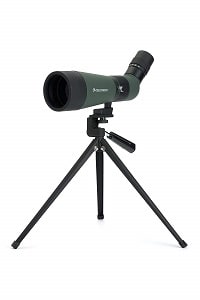 Celestron is responsible for a plethora of premium quality scopes, and their 12-36×60 Landscout certainly one of the best spotting scope under $100 models, if not the very best with smaller magnification.
This model rocks fully-coated optics which deliver exceptionally vivid and sharp images. It's lightweight and very compact. The complementary tripod makes it even easier to use, so it's safe to say that it's great for both beginners and seasoned veteran hunters.
The magnification spans from 12x to 36x, making it perfect for casual bird watching, as well as for hunting.
Why We Like This Product
Generally speaking, this is a great spotting scope, but what we simply adored about it is its smaller, compact size. This is a lightweight scope with an obviously small magnification, meaning that it's a must-have for hunters and target practice.
5. BARSKA Colorado Waterproof Spotting Scope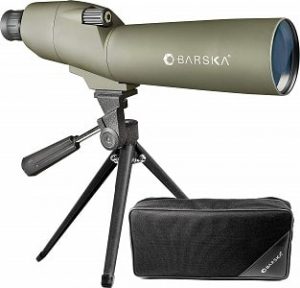 Last, but certainly not least, we're reviewing Barska's Colorado Waterproof spotting scope. This is one of the most convenient scopes out there, mainly due to the fact that it packs a great zoom magnification level and quick-access focus, making it slightly more versatile than most cheap spotting scopes.
It's ideal for targeting and bird watching, but hunters simply love its small, convenient design. Among the gratis goodies, you'll receive a pan head tripod, a carry case, and a neckstrap.
Why We Like This Product
Great zoom, superb versatility, and superb easiness of use – those would be the three things we liked the most about Barska's Colorado spotting scope. It has everything you could ask from a scope, plus you'll get a neckstrap, which most spotting scope bundles don't come supplied with.
The Verdicts Of Best Spotting Scope Under 100 Dollars
Now, even though choosing the best spotting scope under 100 bucks is hard (mainly due to the fact that there are millions of low-cost models), the verdict needs to be passed down and the winner proclaimed.
In our objective opinion, the victor of this bout is Emarth's 20-60xAE Waterproof Spotting Scope. Basically, the logic behind such a decision is very simple. This is the most well-rounded, most versatile spotting scope within the price range.
There's a plethora of benefits it offers and not a single drawback that could potentially lower its value. We highly recommend it to everyone who's into bird watching, astronomy, hunting, target practice, and basically everyone who simply wants to enjoy a good view.